A Record of Innovation … A Focus on Satisfaction
Hot Melt Technologies was founded in 1981. Today with thousands of satisfied customers around the world, HMT remains true to our original vision and purpose. We have grown the right way … focused, steady and carefully. We did not expand through mergers or acquisitions; we did not resort to copy-cat engineering. Instead, we paid close attention to the challenges confronting our customers; we identified unmet needs; and we developed the systems, components and programs to meet those needs.
By doing it the right way, HMT built more than just a company. We built a reputation as the "go-to" team for everything hot melt — one innovation and one satisfied hot melt customer at a time.



1981
Hot Melt Technologies was founded in Rochester, Michigan as a supplier of hot melt application equipment and related solutions for America's automotive industry.
1989
HMT introduces ProFlex  Systems – the industry's first completely modular adhesive supply units. With interchangeable melt tanks, motors, pumps, and system controls, ProFlex sets the standard for performance and reliability in the hot melt equipment market.

1990
HMT develops the DG Series of lightweight handguns. These guns are ergonomically designed for operator comfort and are able to withstand prolonged shop-floor abuse associated with hot melt handgun adhesive and sealant applications.
1991
HMT invents the first 360-Plus® Ball Swivel for handguns, thereby increasing flexibility, ease of use and productivity for hot melt workers. HMT also engineered the industry's first-ever "cool-touch" spray nozzles.
1992
HMT develops "cool-touch" automatic guns with molded-plastic air cylinders capable of independent or synchronous firing.
1993
HMT introduces Benchmark® Systems – pre-configured applicators that set the industry's highest performance-to-cost ratio in general-use hot melt operations.
1994
HMT develops a complete line of interchangeable, positive-displacement spur gear pumps combining the wear-resistance of hardened steel with the heat conductivity of aluminum.
1996
HMT introduces the Benchmark 200 Series entry-level bulk hot melt systems as a cost-effective replacement for hot-stick guns, staple guns, or tape dispensers.
1997
HMT is certified compliant to the ISO-9000 Quality Standard. 
1998
HMT patents the melt-on-demand modular tanks used on ProFlex and Benchmark adhesive supply units. This revolutionary design allows for low-cost upgrades and easy serviceability.
2000
HMT unveils its first-generation Genesys System Controls for ProFlex and Benchmark Systems. These new "G" series modules enhance process control, improve safety and offer easier maintenance.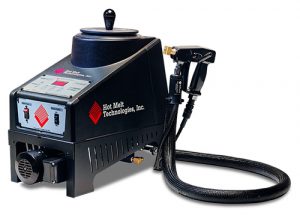 2002
HMT introduces replaceable RTDs for all heated hoses. This unique design enables increased durability and improved serviceability.
2005
HMT develops DG-2000 cable-less Handguns bringing new benefits to users in the woodworking and cabinet-making industries.
2006
HMT develops the ROF auxiliary melt grid for ProFlex adhesive supply units. This auxiliary melt grid effectively doubles the melt rate without overheating or degrading the adhesive.
2007
HMT launches the Benchmark 600 Series of equipment to dispense 1,000,000cps butyls and thixotropic sealants used in the insulated glass and construction industries.
2008
HMT introduces AutoPack Systems to meet the needs of packagers and converters.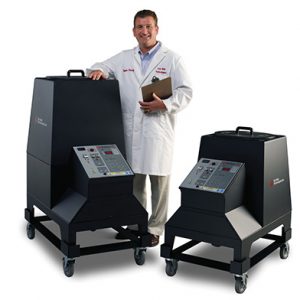 2010
HMT introduces the ProFlex 600 Series of high-volume, high-flow pre-melter systems with tank capacities up to 200 lbs.
2013
HMT introduced variable-speed AC pump drive motors with key-to-line functionality. These motors are interchangeable with all other motors offered on Benchmark and ProFlex adhesive supply units.
2014
HMT introduced its 4th Generation Benchmark and ProFlex system temperature and process controllers with improved microprocessor control features and anti-static protection and built in GFEP protections.
2016
HMT introduced Pro-Fill™ automatic loading systems for pelletized EVA, Polyamide, and Amorphous Polyolefin hot melt adhesives.
2018
HMT brings to market its patented Pro-Fill Load Alert.® An audible alarm or a signal to your PC lets you know when your tank needs adhesive. Fill it manually or automatically with our AutoFill accessory.
2019
HMT equipment is recognized by ETL to meet UL and CSA electrical safety standards.
Going forward, watch for more innovations from Hot Melt Technologies with new technologies and programs that help improve performance, ensure reliability, assure value … and enhance your satisfaction.