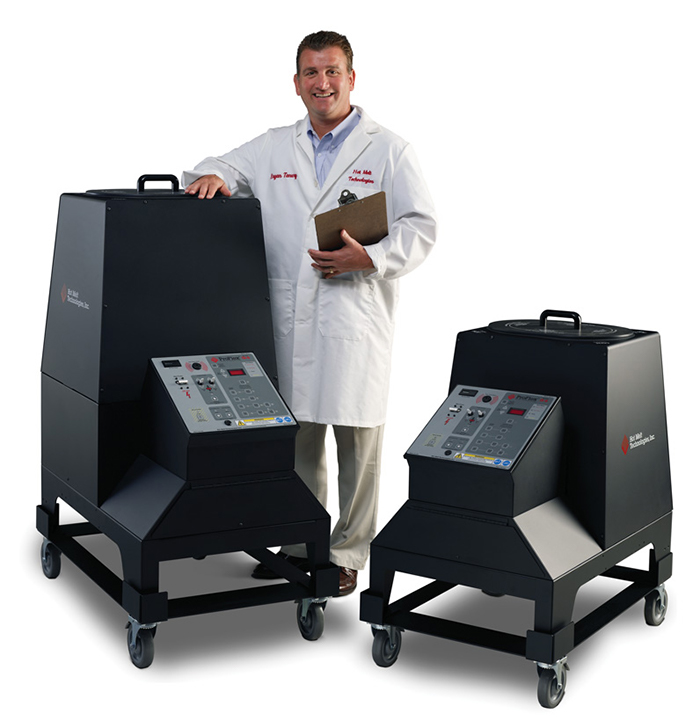 Hot Melt Pre-Melter Systems
ProFlex G6135 and G6200 Pre-Melters from Hot Melt Technologies melt adhesives fast and pump them in high volumes – making them ideal for use in bookbinding, roll coating, sealing, wide web and other applications where high volume performance is essential.
Maximum Melt Rates With Minimum Energy
ProFlex 600 Series Pre-Melters have up to three independent RTD-controlled, pre-melt grid elements. By incorporating high-performance microprocessor controls with low-wattage, high-efficiency electrical components, the units achieve maximum melt rates with minimum energy consumption. With redundant fail-safe temperature controls, integral 24/7 On-Off timer, workplace security is enhanced.
Continuous And Uniform Adhesive Output
ProFlex G6135 and G6200 Premelters provide consistent and reliable hot melt delivery with fractional horsepower AC or DC drive motors and hardened-steel spur gear pumps.
Easy Operation And Maintenance
On ProFlex G6135 and G6200 Premelters, HMT Genesys™ System Controls ensure easy operation and accurate process control, while modular and interchangeable components assure quick serviceability.
ProFlex 6135
Pre-Melter with 135 lb melt tank
ProFlex 6200
Pre-Melter with 200 lb melt tank