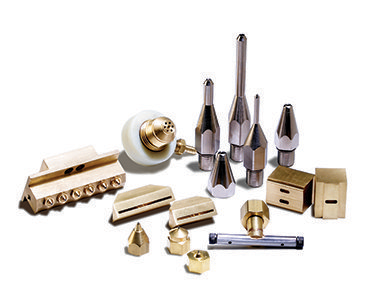 Hot Melt Nozzles for Handguns and Automatic Guns
Hot Melt Technologies supports your operation with interchangeable nozzles of virtually every type. Select from standard types including:
Aimable low-profile nozzles
Bead nozzles
Dual-orifice nozzles
Extended nozzles
Fine-tip nozzles
Insulated glass (I.G.) gunning tips
Reduced-cavity nozzles
Sift-proof nozzles
Single or multi-bead nozzles
Slot nozzles
Swirl spray nozzles
Taper nozzles
And many more
Not seeing what you need? We regularly engineer one-of-a-kind nozzles to meet specialized applications.